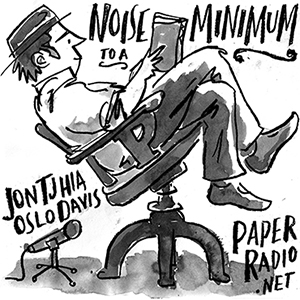 (If you see this text, we made some gigantic mistake and we would love you to let us know, so we can fix it!)
7m20s (10.9mb)

Download »
Subscribe to feed »
Once the home of the ubiquitous KEEP QUIET sign and the archetypal shushers, libraries now serve as repurposed meeting places, infotech zones, and speakeasies. The contemporary hum of incidental noise we make in libraries is considered acceptable, unavoidable, and sometimes even outwardly encouraged – the paper rustle, the machine whirr, the echoing cough.
In the midst of all these sounds, Jon Tjhia and Oslo Davis ask: how can we still think of libraries as 'quiet'?
Story:
Jon Tjhia and Oslo Davis
Voice:
Various
Illustration:
Oslo Davis
Sound design:
Jon Tjhia
Produced by Oslo Davis and Jon Tjhia. Engineered by Jon Tjhia. Album artwork by Oslo Davis. Executive producers Jessie Borrelle and Jon Tjhia (Paper Radio). Thanks to Iris Anderson and George Dunford for the outro!
A co-commission of Paper Radio and ABC Radio National's Creative Audio Unit, with the support of the Ian Reed Foundation and Arts Victoria.
Oslo Davis: OsloDavis.com