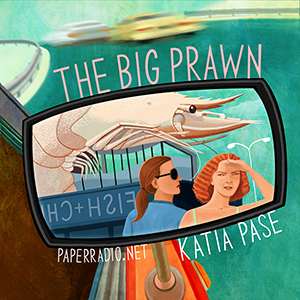 (If you see this text, we made some gigantic mistake and we would love you to let us know, so we can fix it!)
7m44s (9.4mb)

Download »
Subscribe to feed »
By some estimates, there are as many as 150 'big things' strewn across Australia. There's the Big Banana, the Big Merino and even the Big Magic Mushroom. In this story, Ballina's Big Prawn casts a long shadow over the imagination of a young girl, as she hits the road in search of the mythical crustacean of her childhood.
Story:
Katia Pase
Voice:
Katia Pase
Illustration:
Sonia Kretschmar
Sound design:
Jon Tjhia
Produced and engineered by Jon Tjhia (with engineering assistance from Richard Girvan). Additional voice by Gemma Rayner. Album artwork by Sonia Kretschmar. Executive producers Jessie Borrelle and Jon Tjhia.
A co-commission of Paper Radio and ABC Radio National's Creative Audio Unit, with the support of the Ian Reed Foundation and Arts Victoria's VicArts funding program.