News | Published 29/08/2010 10:25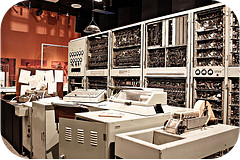 It's been years now since we started "thinking outside the square", so nobody was especially surprised to learn of the latest geometrics to fall victim to inadequacy.
Outside the Circle
is the theme of this year's Australasian Sound Recordings Association conference (ASRA), being held at the
SLV
from the 1-3 of September. The program this year aims to:
"explore the development and growth of sound cultures that began life outside of commercial and mainstream circles. The conference aims to provide a forum for discussions concerning collections, recordings, research and technology based on alternative perspectives and paradigms. We hope to learn more about the individuals and groups working on the 'outside' as well as their unusual uses of recorded sound."
We're so excited about this conference. Here are a few highlights that we think will pique your interest:
Composer and sonologist Paul Doornbusch will be delivering his keynote about the reconstruction of CSIRAC: the fourth all-electronic digital computer in the world, which in the 1950s was the first to also play music.
The conference features a Magic Lantern and Music Show, and an exclusive introduction to the Australian Mediatheque at Federation Square.
Jon Tjhia (of Paper Radio) is presenting a 'pop up' session about his work with ABC Radio Australia's Pacific Break competition and its interactions with emerging recording artists in the Pacific Islands.
Also from the ABC, John Jacobs discusses the innovative, award-winning collaborative project Pool.
Dr Shannon Faulkhead looks to a time when Koori knowledge can co-exist within Victoria's collective knowledge, in 'Respectful Co-existence of Orality and Text'.
There's a free public lecture: 'Pecan Summer – a 21st century Australian opera' will be presented by Deborah Cheetham, Indigenous soprano, actor, opera composer and author.
Clinton Green (of Shame File Music, who released the ineffable Artefacts of Australian Experimental Music compilation – and is soon to release a second volume) offers a historical overview of the Australian cassette underground.
Stephan Schutze, sound designer, lecturer and Director of the intimidatingly comprehensive Sound Library will also be appearing.
The provisional program is now online as a pdf, and you can still register for the conference. Bargainesque.
So, um — be there or be square.
Paper Radio AM2 is coming soon.
---
Acronym Index:
ABC: Australian Broadcasting Corporation
ASRA: Australasian Sound Recordings Association
NFSA: National Film and Sound Archive
SLV: State Library of Victoria
* Image: The CSIRAC, via Keko on Flickr
---
comments powered by